Last Saturday I decided to go to the local artists figure drawing session where they have a nude model that they draw using various medium – even a digital image on an iPad. These have been running for decades as serious professional and amateur artists take advantages of these 'classes'. No instruction is given and each artist continues to improve their skills with this exceptional contact with other artists.
I had not been attending the sessions after they left the use of the university drawing room because of the parking cost, which was of no importance to me as I was a faculty member and had a parking spot on campus – I had more important things to do.

After having taken evening classes from George Swinton while he lived in my city, I had been taught the importance of drawing and composition in art and used that skill to get a position as an apprentice at the largest lithographic printing plant in the province. In the 1950's, color separation was not yet known by the process camera operator and wash drawing in black and white always had dots in the white areas when done in normal processing. A more complicated double exposure using two negatives was possible, but reserved for expensive jobs and not the day to day illustrations I was called on to do. To get get the clean white background; I chose to use pen and ink on smooth rag papers, usually done at 150% of the final printed size.
I had always been good at drawing even my public school days and loved the simple line as I only had pencil and paper and made no watercolor or charcoal images. The years I spent at the printing plant, honed my simple lines with no retracing in most cases. This skill astounded many of my fellow artists who searched for their images amongst the interesting clutter of tints and textures.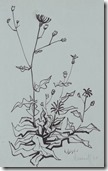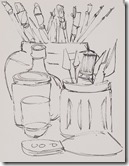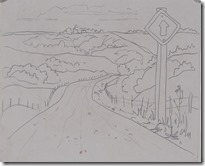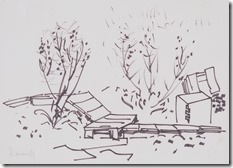 It is easier to get an acceptable image when drawing landscape or still life as they can come in many shapes; but the human figure in known by all of us and used mostly in both fine and commercial art over other subjects. While some artist choose to represent the human figure in an abstract way, I had learned to draw academically as suggested by my mentor and continued all my life in figure work.
I went on to paint and printmaking in an abstract manner, but when attending figure drawing sessions, I usually did some of my work in simple line with 6B pencil or red and white Conte chalks on colored stock. In many drawings, I would use a piece of fine sandpaper to produce powdered chalk or graphite that I picked up with a finger to produce delicate shading to give plastic form to the figure. Over the years that I attended sessions and along with some very early work that somehow survived, I have a collection of over 400 nice drawing I would put up against the better artists in history.
About three year ago, after twisting my back while working on the house in a tight space, I pinched a nerve that gave me great pain in my right leg. My doctor diagnosed sciatica and prescribed morphine. After taking it for a few days, I had to go to the hospital because of the reaction, only to find I was allergic to morphine and with a brain scan, they informed me that I had a mild stroke. While at first it seemed only to affect my sense of taste and was nothing too serious. I later found that my finger dexterity was lost when I tried to produce some sterling or gold jewelry for the ladies in my family. My signature was sort of shaky at times, but still legally recognizable.
Being retired for some twenty years now, I have lost the constant contact with working colleges and friends who have also retired and moved away or died. Occasionally I would meet for lunch with my nephew or another artist, but mostly I busied myself in the studio or at the computer or television screen watching news and learning channels. Some years, students would come over for tea and some help on their projects; to pass the time learning a few of my tricks in my processes. They especially like printing their editions on my linear offset and my better collection of materials and ink.

I decided maybe I could enjoy the companionship of the figure drawing sessions that have stayed afloat all these years, so I gathered my sheets of newsprint and rag papers to arrive at 10:30 at the basement meeting room to find a completely unknown group of artists. Only three knew who I was and two had seen my drawing from before. I was not nervous as this was normal figure drawing that I had done for ages.
At the usual warmup period was the first realization how bad my conditions was. No longer was there a steady hand to drawing the line even in the fast impression of the pose. I looked like an unprofessional who had entered these sacred halls were nude s were to be seen. Now I was upset.
When the longer poses started, I decided to use my toner chalks on newsprint in the hope I could get an image that could be transferred to a litho plate for a waterless edition. The image would by more abstract and tonal instead of line, but my fingers and hands would not do what my mind wanted. Other poses and finally a brown Conte stick gave me more acceptable results, but I now realized my drawing days are over at the age of 85. It has been an interesting art career working at a printing plant where I honed my drawing skills and learned the basis of lithography that led to my developing a waterless litho technique now used over the planet. My many years as art director of the first television station in the city and finally media specialist at the Extension Division at the university because of my knowledge of these standard communications methods. This eventually led to my associate appointment with the art department and the teaching of printmaking classes. An honorary Doctor of letters from the university and other recognition as well for my safer printmaking processes.
So is my art career over? When asked when he will retire? Henry Moore answered with "Artists NEVER retire!" Recently I read in a study, it was found that creative people who do not abuse their bodies with drugs, tobacco or alcohol, live too a much older age than normal people who just watch television or have nothing special to live for.
Recently I have been sorting my papers with notes for the university archives. I have not been satisfied with the recent litho editions and chose to work on the archives; which is important for me. This has taken a lot of time as reading some of the communications was sort of reliving part of my later years. The friends I have made over the Internet from all parts of the planet, whom I have never met personally.
I also decided to see what I could do with digital inkjet printers and polarized light, using a digital camera and light box to take images of cellophane, plastics and other birefingent materials. My last post shows what I am doing in this area and hope to have a number of pieces in the Rouge Gallery show this fall. I also plan to add 'interference pigments' like I have done to my waterless editions in the past.
One evening when I could not get to sleep, I made a list of the important things still left to do - it came to sixty three. I am not ready to retire.