I have been working with sterling silver and gold alloys of many years, using both soldering construction and centrifugal casting. Because of poor print sales in this city and not any longer having galleries in other places, art making seems no longer an option for me. For years I have been bothered from a pinched nerve in my right leg that makes it hard for me to walk and print lithographs even with a fully motorized press. It is standing and rolling up plates that is the most difficult and with poor sales, I have decided to return in making jewellery because I have all the equipment and mostly sit at the bench cutting, filing and soldering pieces.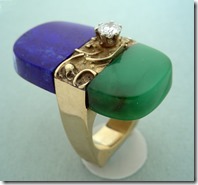 In the 1960's, I was selling jewellery in Vancouver, Regina, Calgary and Saskatoon, but the taxes at that time made luxury items expensive for me to continue and at the suggestion of my accountant, that I should recall all my pieces and just pay sale taxes on my commercial photography and model building. There was fear that someone at the tax office would add the 11% luxury tax to all my freelance activities.
Now, I just enjoy making pieces for members of my family, using the silver that I accumulated many years ago. Sterling silver is a wonderful luxury metal, but its' biggest fault is that it darkens from sulphur in the air over the years and has to be polished from time to time that is sometimes not done well by the owner. Fortunately, a few years ago, a nontarnishing silver alloy was discovered in the UK and is available under the name Argentium. The secret is the thin layer of Germanium dioxide on the surface that prevents oxygen or sulfur coming in contact; just as chromium oxide does in stainless steel keeps things from rusting. It only takes about 1% to do the job and if there is any damage to the surface, the Germanium quickly oxidizes. The patented Argentium metal comes in 93 and 96% fine silver, with the remaining copper as a hardening metal.
My none tarnishing sterling
In ordinary sterling, the copper will oxidize when heated with a torch in air and the dark stain – known as firescale goes down 20-26 micron into the metal surface. This needs to be removed or plated over with sterling silver or other white metals. Removing the firescale can be done with acids or physical filing or sanding, but this could compromise the design from ones original intent.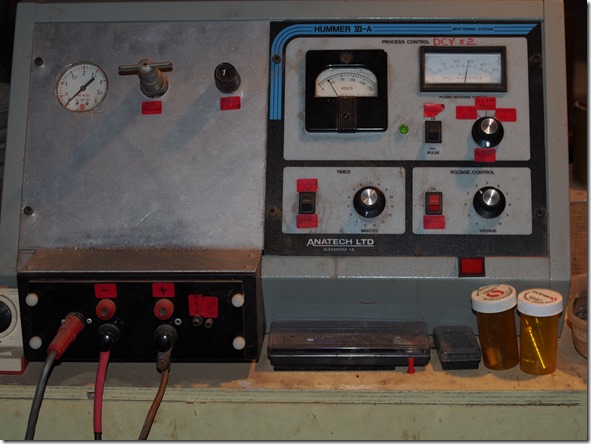 Another interesting feature of Argentium is its' resistance to an electric current. Silver is the best metal for flowing electricity, but it is too expensive to wire houses and other electric jobs. While silver allow about 100% of the current to flow, Argentium allows 56%, so that resistance allows capacitance discharge equipment to join piece with the short electric arc that results.
Since I had a large amount of fine silver, some scrap pieces and fillings of sterling, I decided to make my own version by buying some Germanium. I also decided to use around 96% fine silver in my alloy and use a bit of tin to make a harder metal. The tin came from an aluminium solder that was mainly fine silver with a small percentage of tin. Tin was used by early mankind to make bronze for weapons, well before they learned how to make iron and finally steel. When zinc is used, brass is the result and will not make a hard enough alloy to make a sword. The amount of copper in my alloy would be very small from the scrap sterling that I used up. I used an electric furnace to melt the metal and poured into a mold that comes apart, but coated with lampblack in a bit of oil.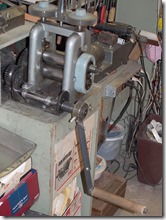 The metal is a bit harder than sterling, but still soft enough to work in all the familiar techniques, but a bit harder to use a rolling mill that I had once motorized. The drive chain from the ¼ HP motor would not handle the rolling as it had over the 57 years I used it, so I was obliged to discard the gears and use just a few to allow me to use a handle when I needed thinner sheets.
I have not resurrected my centrifugal casting because of the changes in the basement workshop area makes it hard to use the vacuum system to make the plaster molds for the burnout of the wax model.
The fact that Argentium pieces can be fused is an interesting feature. Solder is not needed if the flame is right and capacitance discharge works perfectly. Gold can be added as a feature on the surface of the piece as well jump rings in chains can be fused by flame or electricity.
The necklaces were made using a dome of rutilated quartz glued to a red ceramic tile and held in the bezel. The other necklace with wider chain contains a cabochon of Lapis Lazuli.  The finished pieces can be hardened by putting into an oven or toaster oven and heat above 350 degrees for a couple of hours.
For my daughter and granddaughter, I have made two rings – one with a pearl and the other with a large sapphire. The inside of the cups were 24 K gold plated. The cup was recovered when I poured some metal into water to get shot for casting. These come up in random shapes and sizes, but are unique in making interesting rings.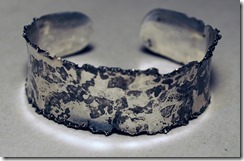 Linked bracelets and cuff models are the few I have experimented making. The one with dark shapes came about me putting a toner texture on the outside and then used a mix of nitric, hydrofluoric and hydrochloric acid to attack the open areas. Silver chloride is formed, which is light sensitive and used in photography. As I etched the metal under a bright light, I noticed the entire surface becoming black. After washing off the acids, I used acetone to remove the toner to reveal the silver. The random shape of the edge was produced by using my capacitance discharge unit to melt the edges. Sharp areas were filed off and became even smoother when the bracelet was buffed.
Another interesting concept in this pendent is to use titanium, fused by capacitance discharge unto both sides of the sterling area. Just used a piece of my sterling and arced the shape unto the main area with the discharge. Then the titanium areas were polished and a DC current was applied to turn the area blue. I made another necklace, using small pieces of titanium and masked off area with sticky tape to cut out the shape for the brown. The link are my sterling that was soldered with easy flow sterling material.
Because Argentium is a patented metal, I cannot use that name or the special stamp, so I just use the standard sterling stamp and my hallmark, a combined NK as I have used for years.