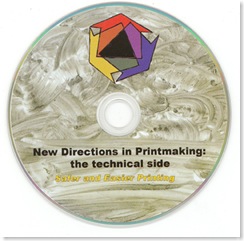 At long last this project has become possible with the release of Adobe Acrobat 9 pro. This allowed Adobe Flash to be used for the video clips I have inserted into the PDF format. Why use PDF instead of HTML - or even Director? I purchased Macromedia's Director a few years ago in the hope it might overcome serious PDF deficiencies, but found it designed more for promotion videos that are time based, unlike the page based PDF's. A very expensive program now sits on my shelf as I have no more demand for it. HTML will format a new way on the different browsers, not allowing me to have any control over layout. The new wider monitors complicates this feature even more. Only PDF, which was designed for the printing industry, has the complete control of text and images. The new Acrobat 9 pro software has made video's easier to fit in; with control over them as well.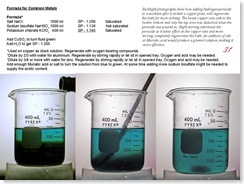 The DVD has been manufactured by standard injection technology and works on Mac's as well as PC's. It contains just over 2 GB of files, with a number of print images saved at 300 DPI that can give better detail. The video clips are short - somewhere between 40 to 60 seconds. Enough information on how a technique works with no long tedious explanations.  Links are made to subset files to go deeper into data if one wishes, with a possibility to return to the jump off page by clicking on the left edge of the monitor. There are 136 subsets containing 165 files, including the 26 video clips.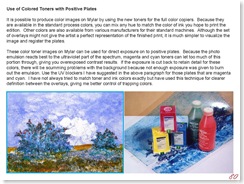 It is in the subsets is where the enrichment data is found to better understand the processes. This a principal of adult education that I worked with while being an audio/visual specialist at the Extension Division at our university. We always dreamed of a system that would give the student random access to pertinent information right at the moment, without having them losing their way. A book is a random access tool, but one has to put in a bookmark if you want to proceed with the lesson while you look for the refer to pages. Links are immediate and the return is just as fast.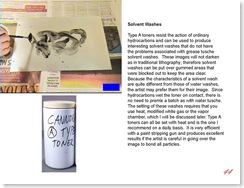 Completed videos covering a process are linear with the only possibility is stopping and thinking about what was shown. Today the PDF format has delivered most of what I envisioned when I started this project in 1996. At that time the hardware and available software left much to be desired. There are still a couple of limitations I would have liked to overcome, but the files are still fun to access in a number of dimensions.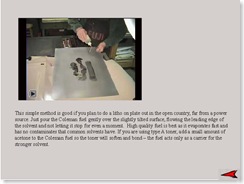 Adobe Reader 9 is free to download and is necessary to show all the features embedded in the PDF files. While other PDF readers are available, the videos may not display using them. While Adobe Reader can be a challenge for the first time user, it can be set up to the viewer preferences but using the toolbar and other features. Future versions of Acrobat will likely have changes to make using PDF easier, but it is worth your while to learn as much about Reader as you can.
You can find more about the DVD in the left hand main index labeled CDRom.