Over the last couple of years, I have been in steady communications with Jerry Larson, the man responsible at 3M in the 60's to get commercial waterless lithography started. He has been of great help lately with me trying to come up with a simpler, cheaper method of making positive waterless photo plates. I wish I knew him in 1990 when I started to research my waterless process, which probably would have made my struggle easier. As a retired PHD chemist, he is still interested in everything doing with printing, as he was manager of R&D for commercial printing industry products, having invented Color Key - which has suddenly made all those wonderful offset proofing presses available to printmakers.
In his continued interested with all things concerning waterless litho, he has been looking into what Presstek has been doing with their computer generated plastic plates and multicolor presses. This method certainly is simpler than exposing Toray plates, using either positive or negative transparencies and the slower turnaround of jobs. While today's Presstek plates are exposed directly on their presses with infrared diodes or lasers, the early patents included sparks to somehow remove the ink rejection qualities of silicone. He is great at researching patents on government websites, and can understand all the chemistry involved - while I can only look questioningly at the organic formulae. Lately we have been discussing the spark method and he wondered if there was anyway it could be used by artists for imaging. He understood that there should be some method by which one could see the effects of the sparks action, but didn't know quite how it could be done without some serious thought.
Since I had a Tesla coil I had built with my young son, sitting in the basement because it was too powerful to play with, I told him I would see what the spark energy would do to a siliconed plate. Today I decided to see what may be accomplished and show the interesting results. While this is just for the fun of seeing what is on the other side of the mountain, I don't see it as a serious imaging technique. I may fool around with it for some weird line textures that can't be produced in any other way. It is unpredictable at this time and might be harnessed with lots of effort, but not likely.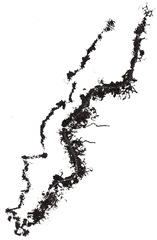 This was my first test to see if the silicone would be affected in any way. To see if drawing a line might make it easier to control an image, I used a Sharpie marker on top of the silicone. The interesting result is that the broken marker line acted as a insulator for the spark and can be seen within the darker line. The lighter one to the side is just a test to see how the distance from the plate might sharpen the spark by going faster across the surface.
I quickly learned how to protect myself from the high frequency energy that is strong enough to make a fluorescent bulb light up when brought close to the unit. The plate was grounded to the Tesla coil case, the output was an insulated wire to a sharp metal point - with considerable greater insulation where I was holding the probe. Still some surprises to keep me awake. Lots of ozone smell in the area.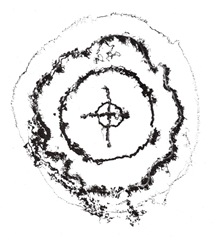 My second test consisted of marking the silicone surface with a Sharpie, trying to follow the lines by varying speed and the probes distance from the plate. On rolling up the plate, I found weak areas, so back to the Tesla coil.  Again the insulation effect of the lacquer film on the silicone plainly comes up on a properly inked plate. To get a better idea of scale, the circle figure is 5.5 inches across; the upper figure is exactly the same when I scanned the printed proofs. It certainly produces an interesting line with serendipity effects, something like toner and grease washes as they reticulate. I can see where it can be used to produce a better looking image. There may be ways to get better control, but is it worth the effort?
So why did I take the trouble? One is to give Jerry my reaction and show him what a Tesla coil can do; but that it certainly must be different to the better controlled spark system advocated by Presstek. It does prove that high energy sparks can make the silicone less effective in rejecting ink.
While this experiment will likely not lead to anything, it is the kind of unusual thinking that brings about advances in science and art. Without this kind of unconventional approach, we may all still be drawing images on cave walls with pieces of charred sticks.