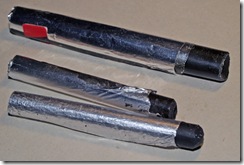 On the edition I am printing right now, there was a small area that needed some color and I looked to find the easiest way to add it. While I could  use the common wax crayon transfer technique from Mylar I mention in the forum, I decided to try a new method that would require me formulating a special crayon.  What was needed is a soft sticky water soluble material that could be formed into crayon shapes. Amongst the material I  had was the water soluble wax used in goldsmithing to allow me to produce hollow shapes for lost wax casting. One builds up the shape close to the design, then puts on the real texture finish with casting wax to produce a thin shell to use less of the expensive metal. Water removes the supporting wax, leaving the thin model ready for investing in casting plaster. This and pure ethylene glycol, plus lampblack was my basic materials.  After melting I was able to pour the wax into simple moulds I made from aluminium foil.
I placed a sheet of Mylar over the print in register and drew a shape to fill the area.  This was transferred to a clean recycled plate using the palm press so I could regulate pressure a bit better. I didn't press hard and only put the thicker portions of the wax unto the plate, creating a more interesting texture. Then to make sure the odorless solvent would not remove any of the image, I heated the plate with a paint stripper heat gun.  This was a precaution as my tests showed this was not necessary. Next I applied a coat of silicone and left it to  cure overnight. Next day to start printing, I washed out the image with water and rolled up the plate with a brayer.

To save the trouble of using the press, I decided to print the small textured area with a palm press by rolling over that area for a few seconds. This transferred the ink unto the rag paper to give me the effect I wanted.  Pin registration was used for each step as this is my normal method of keeping accurate color registration. You can see from the small proof on a piece of paper that the print is quite satisfactory for any edition. You can see the color added to the print on the right side of the composite picture.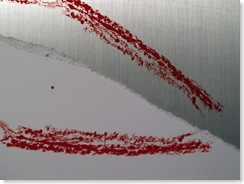 Again I emphasis that the palm press is not meant to print large multicolor sheets in editions of hundreds. For printing textures and special instances like this, it is fast and more than adequate for any printmaker - to save work. Small sized prints on smooth paper can fulfill ones desire for making prints if size is not a concern for the artist. I use the palm press quite frequently in similar situations where it will do the job quite nicely.